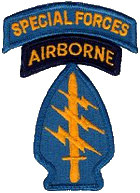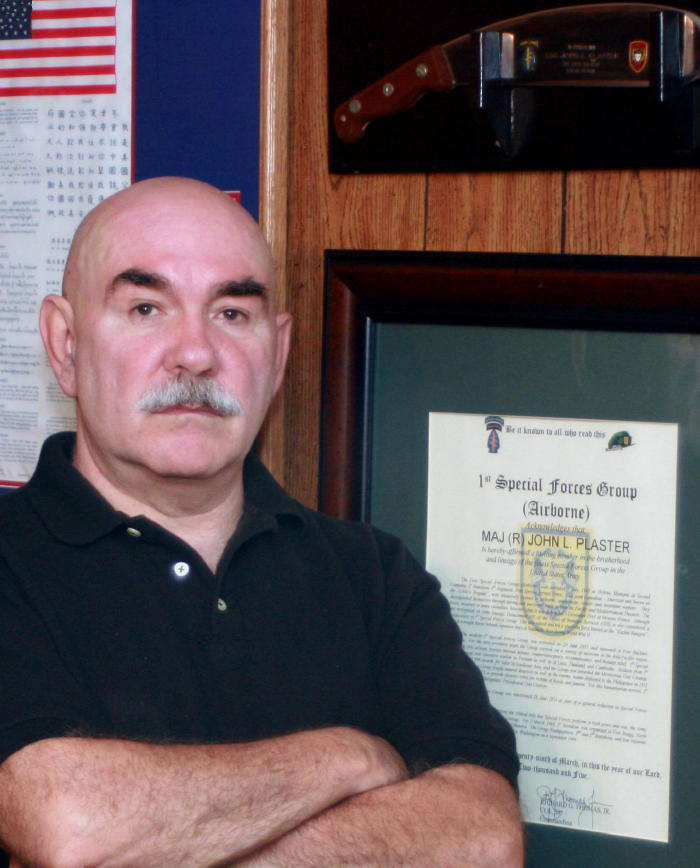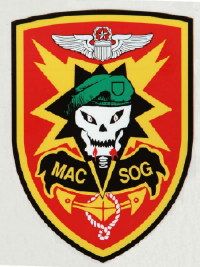 Major John L. Plaster, USAR (ret.), served three 1-year tours in Southeast Asia with the top secret Special Forces covert operations unit, MACV-SOG. Qualified as a paratrooper and a Green Beret weapons and communications NCO, he led intelligence-gathering recon teams deep behind enemy lines in Laos and Cambodia on the Ho Chi Minh Trail.
Plaster's 22 cross-border missions include one of SOG's most successful, the night ambush of a North Vietnamese truck convoy and seizure of an important enemy prisoner in Laos. Wounded once and decorated for heroism four times, in 1970 Plaster was selected to fly with USAF Forward Air Controllers, and accumulated more than 350 aerial combat missions, as well. Leaving Vietnam as a staff sergeant, due to his extensive
combat experience he received a direct commission as a reserve officer. Under the GI
Bill he attended the University of Minnesota, earning a Bachelor's Degree in Journalism.
Combining his SOG experiences at stealth, camouflage and stalking with his postwar experiences as a competitive shooter and State Marksmanship Coordinator, in 1983 he co-founded the National Guard Sniper School which quickly became a major national training program, instructing hundreds of students from all military services and many law enforcement agencies, including the FBI, the U.S. Customs Service, Royal Canadian Mounted Police and Spanish Foreign Legion. After retirement he continued to instruct for police agencies – from Alaska to Florida and California to Connecticut --including a four-year stint as a Precision Rifle Instructor at the prestigious Gunsite Training Center. He twice served as the Chief of Competition for the U.S. and European Military and Police Sniping Championships, personally designing the targets and running the matches.
In addition to guest lecturing at various Special Operations schools and the U.S. Army's Command & General Staff College, he has authored six books and designed a sniper rifle stock and several pieces of shooting gear. In 1997 he received the Bernal Diaz Award for writing that year's best non-fiction military book, and a year later was named, "Man of the Year" by the Special Forces Association for his prominent role in refuting Cable News Network (CNN) allegations that Special Forces had used nerve gas and committed war crimes in Laos. Plaster's foreign service includes two deployments to Norway, where he trained with that country's armed forces; a 1986 stint in Central America which included service as an official observer to El Salvador's parliamentary elections and meetings in Honduras with Contra guerrilla leaders; and his 1979 two-week, civilian clothes visit to Pyongyang, North Korea, where he was shadowed day and night by hostile counter-intelligence officers. In 2004 the USAF Air Commando Association inducted him into their Hall of Fame, the first Army member ever so honored. Four years later, he was inducted into the U.S. Army Special Forces Hall of Fame at Ft. Bragg, NC, only the 22nd Green Beret ever so honored. After insurgent sniping became a major problem in Iraq, Maj. Plaster assisted the Defense Department in suggesting counter-strategies and techniques.
In recent years, he has been a national media source for sniping information. During the 2002 D.C. sniper case, for example, he appeared live on Fox News and correctly said that there most likely were two perpetrators, and neither one was actually a sniper. Maj. Plaster has appeared in a dozen documentaries for the History Channel, Discovery Channel and British television, and continues to work on books and firearms-related research. He is a life member of the Special Forces Association, the Special Operations Association and the Air Commando Association, a member of New York's Brook Club, and an honorary life member of the Ft. Worth Airpower Council.